HST Technologies (HST), a leading clean energy platform provider, is proud to announce that its clean energy platform, View®, has been honored with the prestigious Top Product of the Year Award in the 2023 Environment + Energy Leader Awards program. The Awards program aims to commend excellence in products and projects that deliver significant energy and environmental benefits.
HST launched View® in 2016 to scale clean energy development by addressing common inefficiencies in the industry. Leveraging HST's patented search algorithms, the cloud-based software platform enables developers to rapidly assess the technical and commercial feasibility of projects to support better, data-driven decisions. View® also digitally matches developers with the energy buyers, risk management advisors, landowners, and other partners required for project execution. Curated matches reduce time to key milestones, including site control agreements and power purchase agreements (PPAs), boosting the overall volume and quality of executed projects.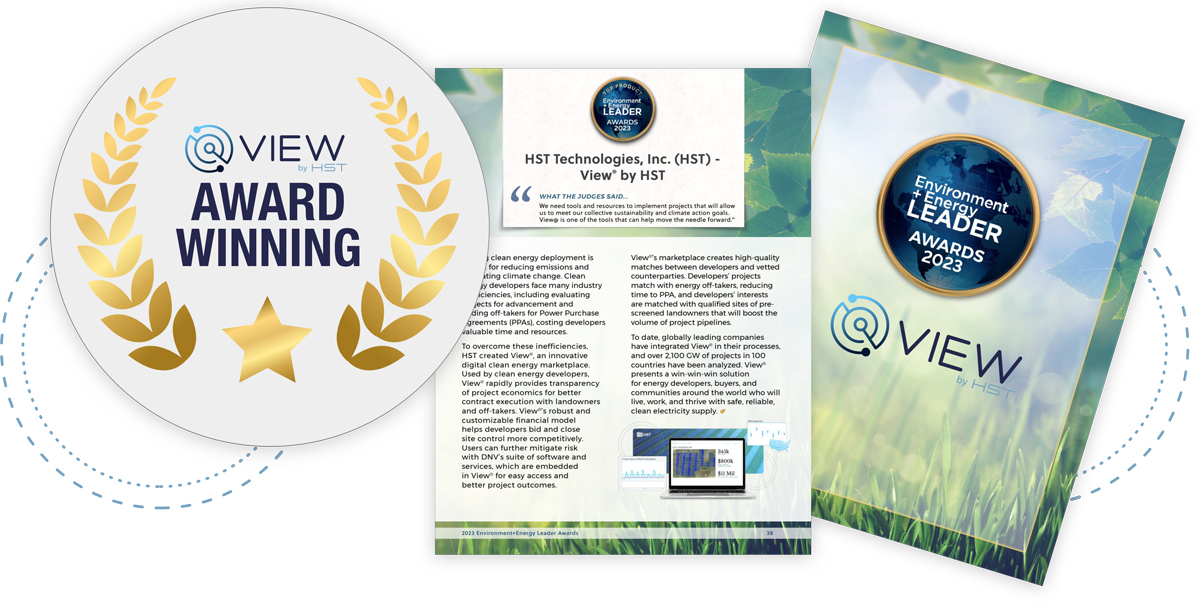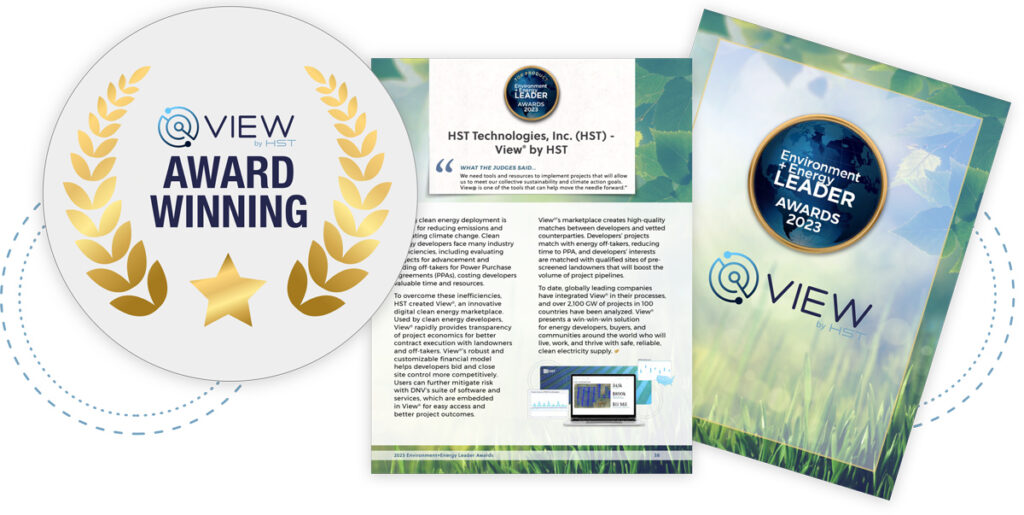 "HST is honored to be recognized alongside the great environmental leaders in the 2023 E+E awards cohort, " said Rudy Roy, CEO of HST. "Our team works with many key partners in the climate industry who make this work possible, continuously innovating to benefit those who work tirelessly to get clean energy contracts done and to get steel in the ground."
Sarah Roberts, Co-President of E+E Leader, emphasized the rigorous selection process, stating, "This year's entrants had to surpass an exceptionally high bar to qualify for an award, thanks to a seasoned and discerning judging panel as well as stringent judging criteria."
The Awards program's distinguished panel of judges recognized the outstanding qualities and contributions of View® to clean energy development. One judge remarked, "We need tools and resources to implement projects that will allow us to meet our collective sustainability and climate action goals. View® is one of the tools that can help move the needle forward." Another judge added, "This is an essential product that brings together stakeholders so that energy consumers can meaningfully transition to clean energy." These testimonials affirm the exceptional impact and excellence of View® in driving sustainability and energy efficiency.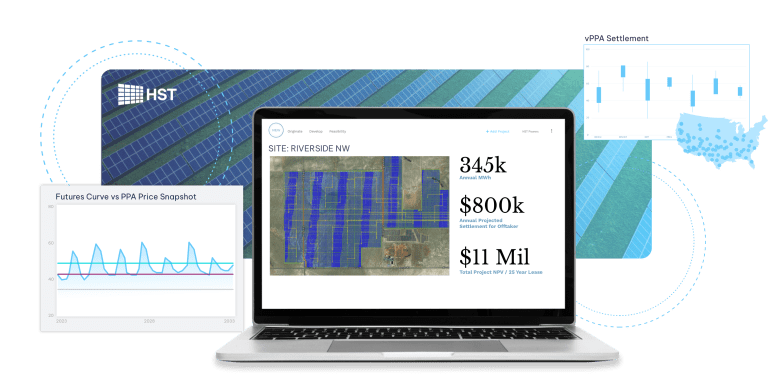 About HST:
HST is a clean energy technology company headquartered in the San Francisco Bay Area. HST provides View®, an innovative clean energy marketplace platform through which over 2100 GW of utility-scale solar projects have been analyzed. View® also provides developers with curated energy buyer matches for their project offtake. View® has been used by many of the world's leading power developers, including Avangrid, Silicon Ranch, EDP, Baywa, Pathway Power, Accelergen, Bechtel, and more. HST proudly pursues its mission to scale clean energy with its partners, including DNV, Green Strategies, Energy Network, Redaptive, Skyview Ventures and Acrux Development. To learn more, visit: www.hstpowers.com 
About the Environment + Energy Leader Awards: 
For over a decade, the Environment + Energy Leader Awards have celebrated excellence in the world of environmental, sustainability, and energy management. Award recipients are acknowledged as industry leaders,  and featuring a Top Project or Top Product of the Year Award badge signifies their outstanding contributions.  Companies seeking sustainable and energy management solutions trust that E+E Product of the Year Award winners offer a comprehensive array of vetted products to guide their decision-making. Project of the Year Award winners exemplify how sustainability and energy management projects can successfully enhance the profitability of other companies.